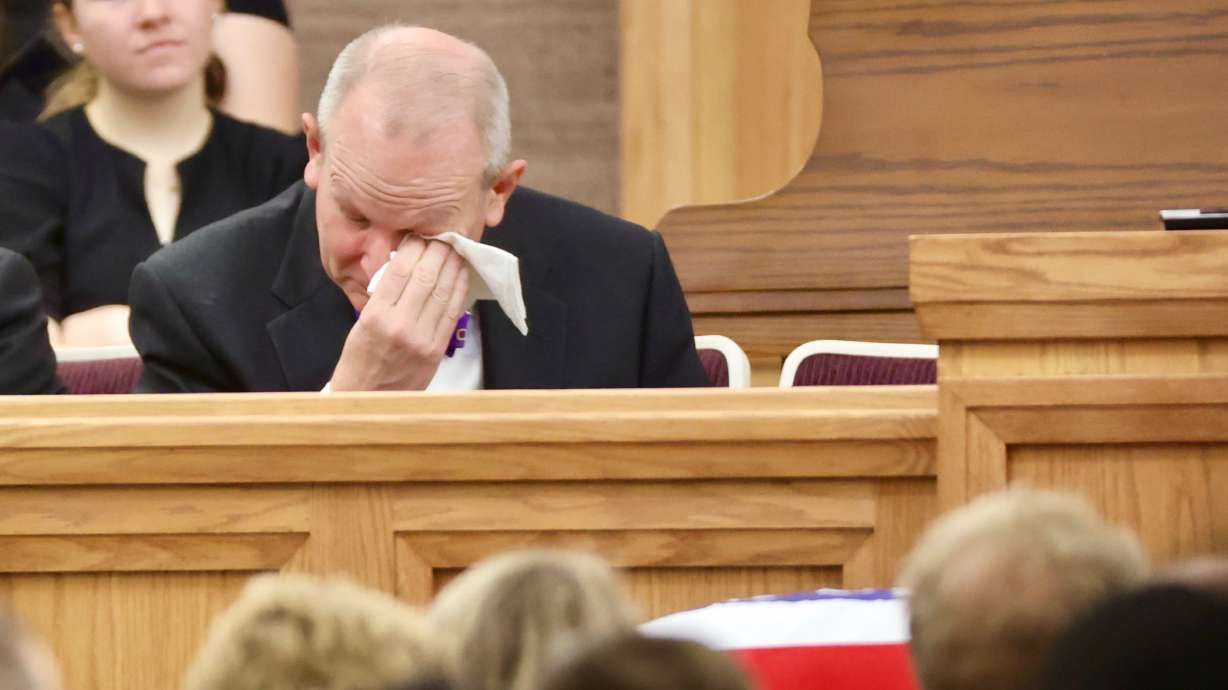 Utah Senator Orrin Hatch remembers his faith, family and service
Brent Hatch, son of former U.S. Senator Orrin Hatch, wipes his tears during his father's funeral at The Church of Jesus Christ of Latter-day Saints Institute of Religion adjacent to the University of Utah in Salt Lake City on Friday. (Kristin Murphy, Deseret News)
Estimated reading time: 5-6 minutes
SALT LAKE CIY — Family, friends and colleagues celebrated the life of Senator Orrin Hatch on Friday, reflecting on his legacy of public service, devotion to family, love of people and devotion to God.
There were many laughs among tears as speakers shared stories not only of his many years as a U.S. senator, but also as a husband, father, and friend during service at the Institute of Religion in the United States. Church of Jesus Christ of Latter-day Saints in Salt Lake. City.
"He was really larger than life," said his daughter Marcia Hatch Whetton.
Among the hundreds of people gathered for the funeral were current and former political leaders from the United States and Utah, including Senate Minority Leader Mitch McConnell, and leaders from the Church of Jesus Christ of Latter-day Saints, including President Dallin H. Oaks, First Counselor in the First Presidency.
Hatch, the longest-serving Republican in the U.S. Senate and the longest-serving senator from Utah, died April 23 at age 88. He was first elected in 1976 and served 42 years in the Senate until retiring after his seventh term in 2019.
He received full military honors outside the institute building before a funeral procession traveled to Newton in Cache County, where Hatch will be buried in the hometown of his wife, Elaine. Governor Spencer Cox presented Elaine Hatch with the flag that had draped her husband's casket at the funeral.
Much of the 90-minute memorial service focused on Hatch as a person, not a politician. Speakers told anecdotes about his kindness to strangers, his sense of humor, his hard work and his frugality. They also talked about his deep faith in Jesus Christ and his attachment to his religion.
"He was truly a friend to so many people," Whetton said. "He often spoke about how much he loved this country, the State of Utah and all the people of Utah, and he truly felt it was an honor to serve."
Hatch's son Brent Hatch said his father had lived two lives – his own and one for his older brother Jesse, who was killed in World War II. Orrin Hatch was so shocked by the news of his brother's death that it caused a white streak in his hair that never went away, Brent Hatch has said. It was a constant reminder of his commitment to his brother.
"He lived an amazing life. He wasn't perfect but he never gave up. He really lived his life as a life together." says Brent Hatch.
McConnell said Hatch is committed to bipartisan efforts to uplift the vulnerable, pointing to acts passed to help children's health insurance, disabled Americans, generic drugs, HIV/AIDS and the lifeline against suicide.
"Orrin brought his legislation to the same place where our Savior took his ministry: to the margins, to the periphery, to the service of the 'least of them,'" he said.
Hatch was famous for the prolific handwritten thank you notes he sent to all sorts of people, including Utah Jazz players for a big win. He said the grades reflected his respect for everyone's dignity.
"A lot of Orrin's character is captured in that habit," McConnell said.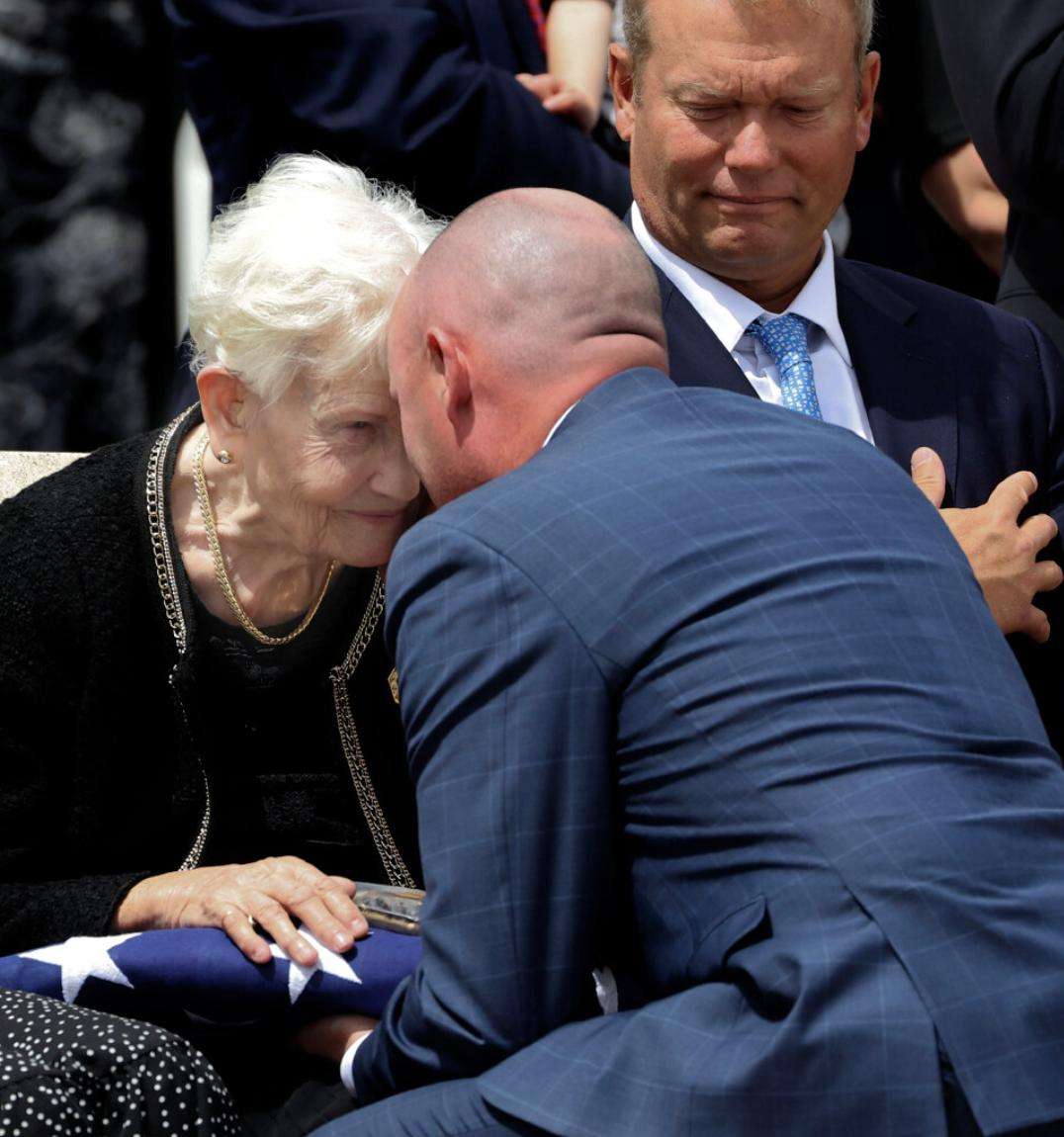 The notes were also indicative of Hatch's legislation, McConnell said. "Each bill was an Orrin Hatch thank you note to our nation," he said.
Hatch never looked down on anyone, and more likely would have shared a hot dog with a guy and talked for hours, McConnell said.
Hatch's affinity for Costco hot dogs because they're cheap is well known. Whetton said his father's favorite restaurant was Chuck-A-Rama, an all-you-can-eat buffet in Utah. He even took VIPs to eat there. And he always told his diners to eat plenty so they got their money's worth, she said.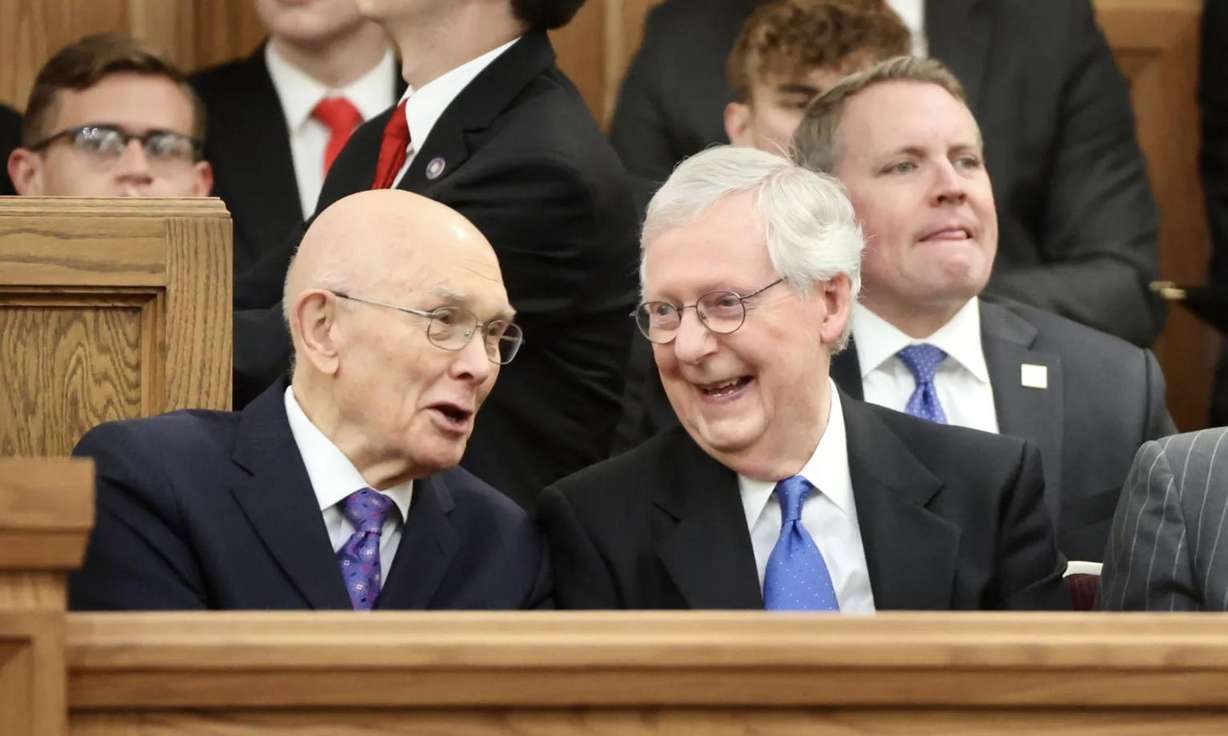 Former Oregon senator Gordon Smith recalled taking Hatch to a draper in London to buy a new suit to help him regain the title a magazine gave him as the best member dressed in Congress. When he learned it would cost £2,000, he called off the deal and said he would get the title back with the help of Mr. Mac, a Salt Lake City clothing store known for outfitting the Latter-day Saint missionaries.
Smith said it was not inevitable or predictable that Hatch would become one of the nation's top lawmakers. He had no government experience when he came to Washington and early on had a reputation as a conservative ideologue. Every lawmaker faces a choice about what kind of lawmaker they will be, from noisemaker to negotiator to peacemaker, he said.
"Certainly, Orrin has made his share of noise," he said. "But Orrin had the humility and wisdom to also be a student of the Senate. It made him listen and learn."
Hatch had an "ecumenical heart," Smith said. Although devoted to his faith, he respected the beliefs of others.
"Orrin's love for God led him to be active in loving his neighbors while keeping the First and Second Great Commandments," he said, adding that he had personally seen the compassion from Hatch in the form of letters, songs he had composed, and long walks after death. of one of his children.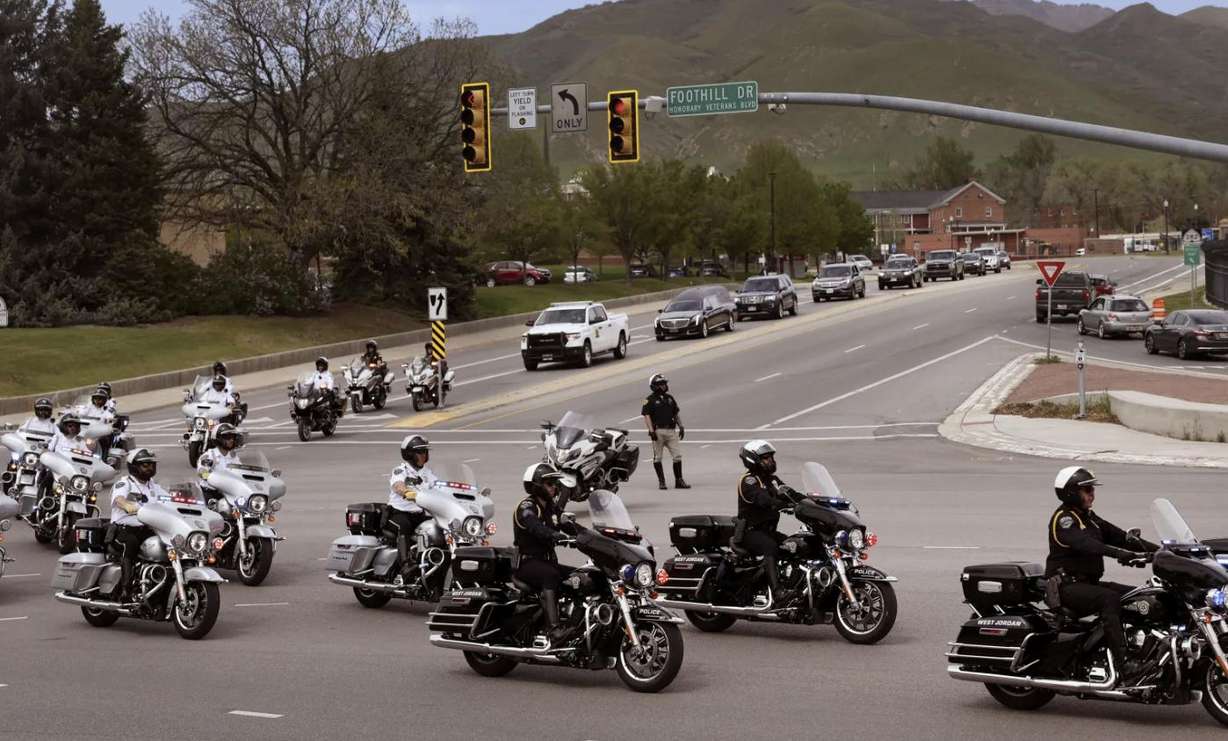 "Orrin was not a perfect man, just an extraordinarily good man," Smith said.
President Oaks said he first met Hatch 50 years ago. Both of their families were from pioneer backgrounds and settled in what is now Vernal in southeastern Utah in 1879. Back then it was known as Hatchtown, a-t -he declares.
"What happened to Orrin Hatch after our first meeting 50 years ago is well known and already reviewed," President Oaks said. "I only add our long-standing friendship and frequent contact and work on matters of common and public concern. Now, born two years apart and tracing our ancestry to the same small town in Utah, Orrin and I are coming together for what I like to call The Orrin G. Hatch Mortality Graduation, with the highest honors."
Cox noted that there were 1 million people in Utah when Hatch was elected and 3 million when he retired. This puts "the depth and breadth of his service into perspective," Cox said.
"For a lot of people across the country, what they know about Utah is Senator Hatch, their interactions with him. And I don't think there is anyone, if we had to choose someone, that I would rather represent the state for this long, in so many different ways," the governor told reporters before the funeral.
×
Pictures
Related stories
More stories that might interest you