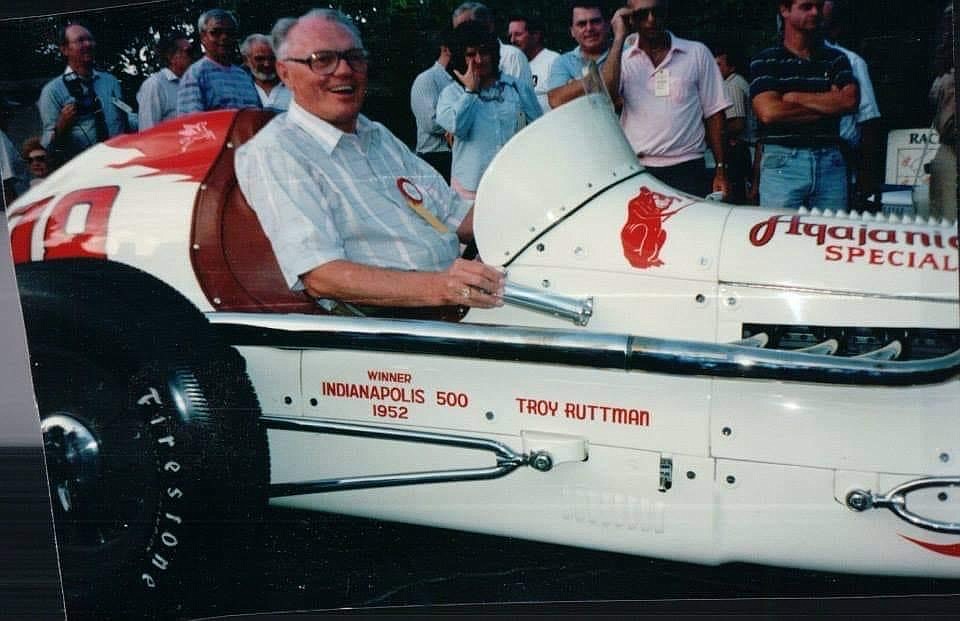 THE FRONT ROW with MARK NELKE: Members of the Ruttman family in northern Idaho reflect on his Indy record, still intact 70 years later
An accident once forced record-breaking racing driver Troy Ruttman to roll horizontally in a vehicle after a race – but it wasn't as bad as you might think.
In 1949, Ruttman was injured in an accident while racing in Arlington, Texas, and ended up with casts on both legs, up to the waist.
"He broke his pelvis," recalls Beverly Benson, his wife at the time. "I don't know what else he broke… We had a new Cadillac, we took the seat back off and put a board from front to back, and he just lay there. He was 6 feet 4 inches tall. But he adapted to it; that's how I brought him home.
Beverly brought her husband home to Southern California – with a side trip to Oklahoma, where his loved ones lived.
She marveled at the protective gear — or rather the lack thereof — that drivers wore in those days.
A half helmet, she says, instead of a full helmet.
Drivers nowadays wear fire suits. Troy Ruttman won the biggest race of his life wearing a T-shirt.
"It's just amazing that he went through all of this," Beverly said.
RUTTMAN REMAINS the youngest winner of the Indianapolis 500, winning in 1952 at age 22. There are four drivers in this year's field who could eclipse that record.
Indy plans to remember Ruttman today. On the morning before today's Indianapolis 500, the cars of eight former champions, including Ruttman's No. 98, will spin around the 2.5-mile track at the Indianapolis Motor Speedway.
Ruttman died of cancer in 1997 at the age of 67.
But his family – including those who live in northern Idaho – remember him every day.
"There are a lot of people who are shocked that it's my grandfather," said his granddaughter, Dina Shore. "Most people think I'm crazy, and then they do a Google search, and they're like, 'No, you're not lying. "
I work at the hospital and one of the doctors really likes Indy and I talked about it and he was like in shock, texting all his buddies.
Benson, 92, who has lived in Hayden for 20 years; Shore, 50, who has lived in Coeur d'Alene since 2000; and Roxanne Holland, 70, Troy's daughter who has lived in Hayden for 24 years, reflected earlier this week on their former husband, grandfather and father, respectively.
HOLLAND was 1 month old when Troy Ruttman won at Indy. She is the youngest of Troy's three children – Toddy, the eldest, is 72. Troy Jr. came a year later, then Roxanne a year later.
Roxanne got to see her father racing in Indy in the early 1960s, shortly before he retired in 1964 at age 34, after 19 years of racing.
Roxanne last returned to Indy in 1992, when Troy was inducted into the Indianapolis Motor Speedway Hall of Fame. It was the 40th anniversary of his historic victory.
"I'm very glad I went," said Roxanne. "I remember the freeway, the balloons and going to the garage…it was great to do that."
This year, Beverly, Roxanne and Dina plan to watch today's race on television.
"It's not the same on TV, but you can't see the race (if you're in Indy), they go 200 miles per hour," Roxanne said. "If you want to see the race, you have to see it at home. If you want the whole picture, you have to go.
Troy Ruttman Jr. followed his father into racing, but was killed during a race in Pennsylvania in 1969, at age 18.
"So racing has always been in our blood. I've always been in the middle of racing," Roxanne said.
BEVERLY LIVED in California for 73 years before moving to northern Idaho.
Has she ever been worried about being married to a racing driver?
"I never took my kids to the races for that reason, because you didn't know if you were going to go home with a husband or not," she said. "That's why they (the kids) never went to the races, barely."
Eventually they did, but you can understand his concern. Plus, she said, there wasn't much for them to do at the racetrack.
She watched Troy race in Indy for about 10 years. She said she didn't remember much of her winning run – remember, it was 70 years ago.
But she recalls that peanuts and the color green were bad luck back then.
"The thing is, when Troy won that year, he took his shoes off after he got home and the insoles of his shoes were green," Beverly said. "I don't wear green to this day, barely, because I just got out of the habit. I don't like green.
DINA SHORE's first name is pronounced "Deena", as opposed to that of Dinah Shore, singer, actress and television personality who died in 1994 at the age of 77.
Dina has two sons and the youngest, Mason, a junior football player and pitcher at Coeur d'Alene High, is in NASCAR.
She's never been to Indy, but hopes they can go back one day.
"I think they would both love to go to Indy," Dina said of her sons.
About 10 years ago a book called "California Gold: The Legendary Life of Troy Ruttman" written by Bob Gates was published.
"He's impressed," Dina said of Mason. "He brought the book to school several times."
"The book really makes me look good," Beverly said.
Dina was born in 1972, long after Troy retired from racing.
Joe Ruttman, Troy's younger brother, raced in the NASCAR and NASCAR Trucks series. She remembers seeing her uncle, Troy Jr., running.
Dina remembers going with her grandfather to the Long Beach Grand Prix when Troy raced in the pro-celebrity race.
"I heard he had a fake birth certificate, and that's how he started early," she said.
Troy Ruttman's funeral was held in late May in his hometown of Mooreland, Okla. It turns out that rain postponed the Indy 500 that year, and the race started around the same time as Troy's funeral.
"I wish it was a little longer," Dina said of her grandfather.
Mark Nelke is sports editor for The Press. He can be reached at 208-664-8176, Ext. 2019, or by email to [email protected] Follow him on Twitter @CdAPressSports.