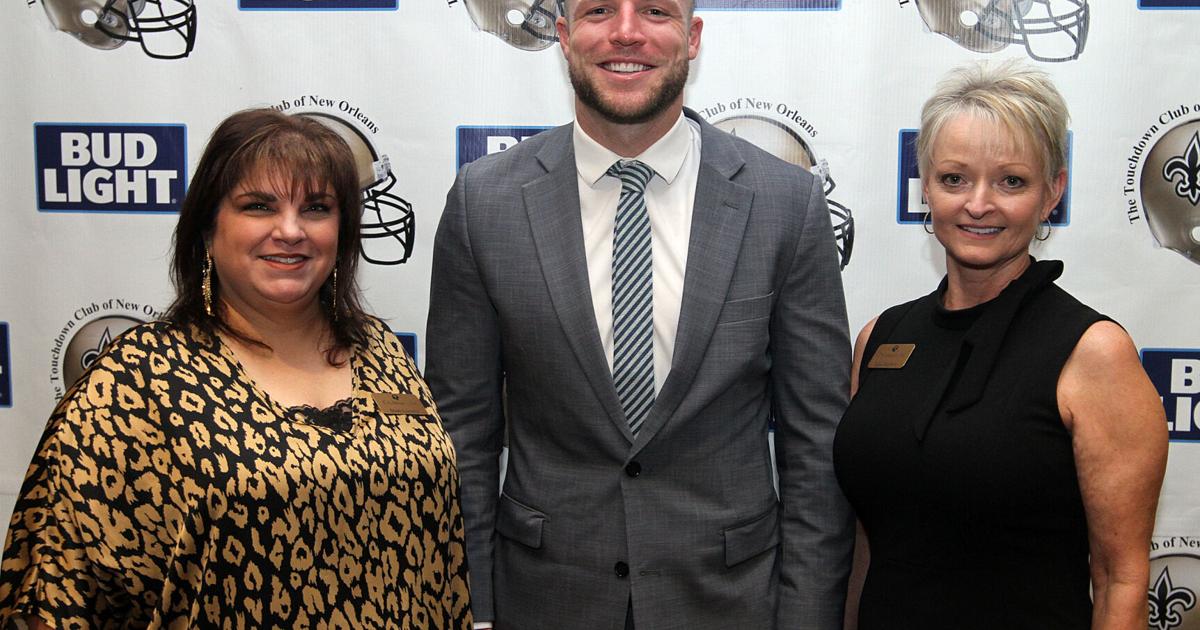 Nell Nolan: Meet the Saints, Jewish Family Service, Sugar Journal Dinner | Parties/Society
summer greetings
Three different organizations – all centered around an "S" – have amassed supporters, thanks to Saints, Service and Sugar.
Landing!
Meet the Saints! Certainly an exciting invite, and that's what the Touchdown Club of New Orleans hosted recently during a luncheon at the Hilton New Orleans Riverside. The club not only provides a close look at the team owner and mastheads, football players and coaches, but has a mission "to be the best fan club and social organization that promotes and creates spirit and enthusiasm among friends, supporters and all other parties connected with the New Orleans Saints.To the mission are added philanthropic efforts.
Founded in 1967, the non-profit association Touchdown Club, has for president Paula Szubinskivice-president Loyd Bagotsecretary Lynn Lewis and treasurer John Kohl. Therese Lowe chairs the board, which includes directors Lisa Barber, Shereen LeCron, Dani Lisotta, Chuck Mutz, Patrick Nulty, Jeff Richoux, Donna St. Romain and Shannon Ockmanwho chaired the luncheon. beverly bellows and Jo Ann Senko serve as advisers.
With Bud Light as presenting sponsor, the lunch activity began. It's always a pleasure to see the players – most dressed in a coat and tie – enter the Grand Ballroom en route to their assigned seats in the three rows of chairs on the stage. At their head were the Saints Cheer Krewe. The Jesuit High School Marine Corps Junior ROTC Color Guard presented the colors, Amanda Shaw showed fiddle in his rendition of "The Star-Spangled Banner", and the Reverend. Sydney speaks gave the catchy invocation. Lunch was then served and consisted of a wedge of iceberg lettuce with a delicious green goddess dressing, braised beef ribs and a decadent chocolate dessert. During this time, guests purchased merchandise from the Saints, which was set up in the adjacent Chemin Royale.
Continuing the program, Chair Paula gave an official welcome and thanked the Touchdown Club VIPs with a special thank you to Luncheon Chair, Shannon Ockman. The next step was mike hos for the introduction to the head table, starting with the team owner Gayle Benson, then the players. Always a highlight, the singularity of the lights fascinates the crowd. Hoss' quick banter about each player was masterful.
Among those riveted to the crowd were hundreds and hundreds Patty Battard, Wanda Voss, Roland Szubinski, Greg Ockman, Bob Lowe, Jerry Peters, Elwood and Sandra Cahill, Angelo and Sharee Marconi, Tim and Katie Hand, Ken and Deanna Dupont Duke, Timothy and Patty Stevens, Frederick Barnett, Brittany Cooper, John "Spud" McConnelland Tracy Moore. Several team colors featured black and gold or even related suits. Also noted were Who Dat Clown, Larry Cook get signings for his Sports Brella and Mac the Quack.
Before Paula Szubinski concluded the program with "I hope you enjoyed this as much as we did", Saints Coach Dennis Allen spoke for fan appreciation. He pointed to the roster, saying "These guys on stage work extremely hard" and that he, Allen, feels blessed in what he does. He ended with the promise and effort of "every waking moment to bring a championship back to this city."
Focus on family
Calcasieu, a Donald Link Event Space, was the venue for the Jewish Family Service's evening which spotlighted the chairman of the board of trustees, Dr. David Dulitz with spouse Kristenfirst vice president Debbie Pesses with Leonsecretary Rochelle Adler Effron with dr. To mark, and executive director Roselle M. Ungar with Stanley. All were thrilled with the first "in-person" event since 2019, a fundraiser for the organization's mental health services.
Crisp white linens and bud vases containing colorful bouquets adorned the tables and contrasted with the chic, industrial charm of Calcasieu. Catering came from several Donald Link restaurants, such as Peach (smoked tuna) and Butcher (smoked salmon). Kosher-style heavy appetizers and caramelized onion pie add to the menu attractions above. Musician Sam Kuslan provided the spirited sounds.
Among those who listened attentively to Dr. Dulitz's words of appreciation were Bonnie and Harris Blackman, Randy and Patty Ungar, Jonathan Lake, Hal and Kathy Shepard, Bruce and Ellie Wainer, Bobby Garon and Robin Levy, Dana and Louis Shepard, Gail Pesses, Anamaria Villamarin-Lupin, Ellen and Stan Kesslerand Jordan Liberman. All espoused the work of JFS, a social services agency dedicated to "individuals and families" at every stage of life. Their own social unit, after some time away, was a delightful bonus.
Sweet treat!
"We have so many exceptional people in our sugar industry," began Romney Richard, publisher and editor-in-chief of Sugar Journal, at a staff gala dinner in Antoine's Rex room to celebrate the first 2022 Sugar Notables. Nominations opened last year and a panel of industry leaders selected the winners in each category. Jake Giardina and Ken Rodrigue tied in the category of sugar cane producers. Additional winners were John Snyder, Sugar beet grower; Michel Daigleraw sugar processor; Mickey Sether, Cane sugar refiner; Chris Roton, Beet sugar processor; and Harold Birket, Searcher. The Sugar Notables came from Louisiana, Florida, Maine and Wyoming and understood all aspects of sugar production from cane and beets.
The importer and distributor Bizou Wines provided the wine pleasures, and Antoine the culinary pleasures. Puffed potatoes, salad, shrimp remoulade, fillet with wine merchant sauce and baked Alaska were duly savored.
Others gathered, along with hosts Romney and Charles Richard, were Jesse Lopez, Jeanie Stein, David and Denise Hatcher, Anthony and Jolie Giardina, Brian and Darlene Rodrigue, Jacqui and Jordan Hillin, Gert Hawkins, Sam Daigle, Tod Rodrigue, Ellie Rodrigueand, with their husbands, Wanda Rodrigue, Patricia Birkett and Celeste Daigle.
Good news! The Sugar Journal team now plans to make Sugar Notables an annual event.