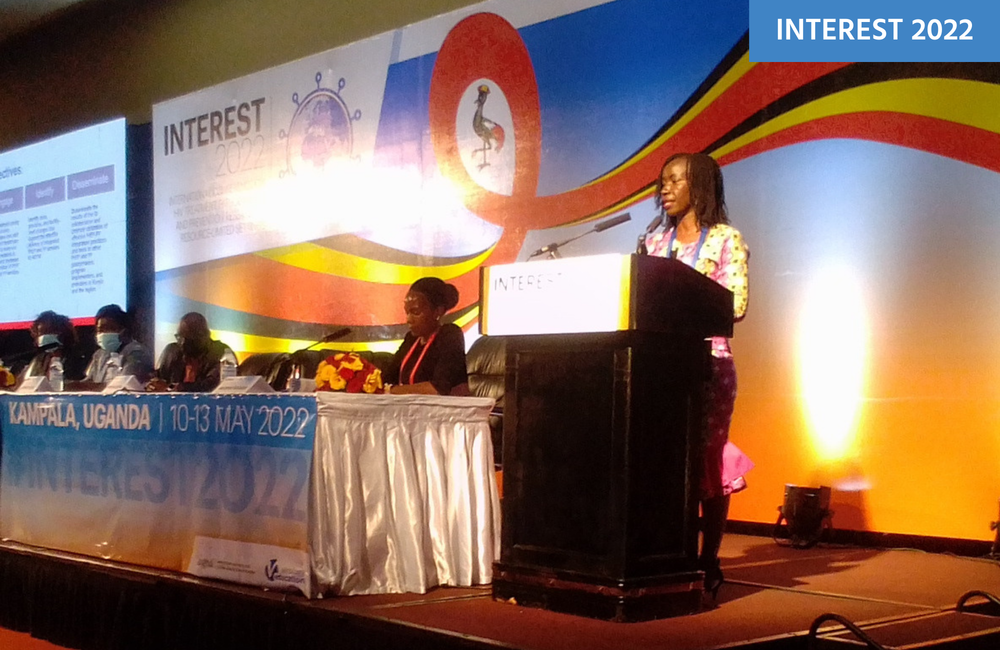 Here's why oral PrEP in family planning services for young women in Kenya has had dismal results
A seven-month program in Kenyan public hospitals aimed at increasing access and use of oral PrEP among adolescent girls and young women has seen low uptake, with critical challenges encountered at health facilities, learned the INTEREST 2022 conference in Kampala this week. The researchers make several recommendations on how absorption could be increased.
Patriciah Jeckonia of LVCT Health presented results from a study of three high-volume public health facilities that aimed to integrate PrEP services into family planning services between April and October 2021. Of 179 eligible adolescent girls and young women, only 43% have started Preparation.
While Kenya has succeeded in scaling up PrEP in public hospitals, most users are partners of people living with HIV, with a median age of 31. However, the group likely to benefit most from PrEP in Kenya are adolescent girls and young women aged 15-24 who face high HIV incidence, are rarely aware of their male partner's HIV status, and do not take proactive steps to start PrEP for HIV prevention.
To advance the integration of PrEP services for adolescent girls and young women, the PEPFAR and USAID-supported CHOICE project piloted PrEP-family planning services in three health centers in Nairobi.
Family planning providers were trained on how to integrate PrEP into their work and received checklists and a rapid assessment tool. During the implementation period, there were weekly supervision visits to the facilities and refresher trainings. Adolescent girls and young women were trained as PrEP champions to help create demand.
Providers screened family planning clients, and those who were eligible were referred for further PrEP evaluation at a referral facility. Here, clients underwent further evaluation for PrEP and those deemed eligible were started on PrEP. Because most family planning providers had not received adequate training in PrEP delivery and PrEP was delivered in HIV care clinics, all providers at the three facilities chose to orient their clients to district and referral hospitals.
Between April and October 2021, 6,624 adolescent girls and young women attended family planning service facilities. Jeckonia told the conference that while they expected all patients to be screened for PrEP eligibility, providers only screened 61% of those patients. Of the 758 patients eligible to be referred to PrEP after screening, providers referred only 78%. Finally, out of 179 patients eligible for initiation, only 79 (43%) started PrEP.
Jeckonia explained the different challenges faced at the facility level. Providers complained of a high workload and many had a negative attitude and risk bias toward PrEP. "If a young woman came in and said she was married but her husband was working in another county or another city, she would be asked why she needed PrEP," Jeckonia said. "Providers felt that married women were not at risk."
Other challenges include high staff turnover rates, a lack of cohesion and teamwork between PrEP, family planning and HIV testing service providers, inconsistent documentation, inconsistent use of the rapid assessment tool and providers who expect additional payments for integrated services.
Many clients were not ready to start PrEP the day it was offered, while some refused for fear of domestic violence. However, some of those who accepted the recommendation left due to long queues or "getting lost" on their way to see the next supplier.
Some of the key lessons and recommendations shared from this program include:
Family planning, HIV testing, and PrEP providers should be trained together on PrEP-family planning integration to foster cooperation.
The value of integrating these services should be emphasized by facility, local and national leaders. Coaching and supervision are necessary.
More than one provider in each service delivery point should be trained and equipped to provide combined services, so that if a provider is transferred or goes on leave, integrated services can continue.
Ensure an adequate supply of HIV test kits and other commodities.
Given high staff turnover, training on integrating PrEP and family planning should be conducted before providers begin service and supplemented with on-the-job sessions.
Ongoing education on adolescent-friendly services and reduction of provider bias towards PrEP use among adolescent girls and young women is needed.
Greater investment in raising awareness and creating demand for PrEP among adolescent girls and young women both in the community and in the facility (for example, through health talks in the classroom) waiting) is needed to increase PrEP readiness.
More work to address structural barriers to PrEP uptake by adolescent girls and young women – for example, gender-based violence, stigma, and relationship dynamics with male partners.
"Although the number of family planning clients who started PrEP over seven months was low, the project highlighted critical challenges—and potential solutions—to operationalizing the integration of services into high-volume public healthcare facilities," Jeckonia concluded.
References
Jeckonia P et al. Moving from rhetoric to reality: lessons learned from integrating oral PrEP and family planning services in public health facilities in Nairobi, Kenya. INTEREST 2022 Conference, Kampala, Abstract 5, 2022.