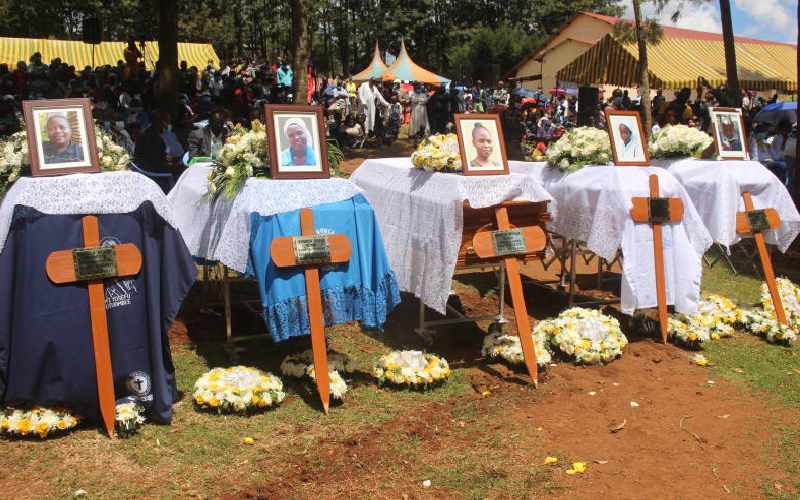 Grief as five family members who died on Christmas day rest
Emotions run high yesterday as the bodies of five family members who died in a Christmas Day traffic accident along the Mombasa-Nairobi highway were laid to rest in Kisii.
Mombasa-based construction contractor Ronald Bundi, his wife Veronica Ogake and their three daughters Marion, Natalia and Claire, like the united family they were in life, were buried in a grave at their home in the village of Boigesa in the constituency of Bobasi.
Family members cried uncontrollably while others passed out when the five coffins were lowered into the partitioned tomb minutes after 4 p.m.
The Catholic Bishop of Kisii, Joseph Mairura, led the funeral attended by hundreds of mourners and described them as dedicated members of the church.
Bishop Mairura told mourners how he was once stuck looking for a job for someone in need at a company in Mombasa, only for Bundi to come in and step in.
He said Bundi had supported the church's programs in his home church and in Mombasa and that many good deeds will be remembered not only to his family but also to his village comrades and other Kenyans. who needed his help.
"Ronald had a great love for the people he interacted with. He was a choir trainer and music composer for his church; he will be sadly missed by the many people whose lives he touched," said Bishop Mairura.
Chief Administrative Secretary of Transport (CAS) Chris Obure, Western Mugirango MP Vincent Kemosi, former Nyaribari Chache MP Robert Monda and former Mugirango Southern MP Omingo Magara were among the hundreds of mourners who turned to say goodbye to the family.
Obure donated Sh 500,000 from Home Secretary Fred Matiang'i to help with funeral costs in addition to the Sh 50,000 donation pledging to support the local Catholic Church that Bundi was helping to build.
Bishop Mairura tightly controlled the program and only asked Obure to greet the mourners on behalf of the political leaders present according to the wishes of the family who did not want the funeral to be politicized.
"The death of Bundi and members of his family is a great loss for the inhabitants of the village of Boigesa in the constituency of Bobasi; we are leaving the two children who survived the crash in the hands of God, "Obure said.
A last-minute change of plan nearly wiped out the whole family in the crash in Mackinnon on the Mombasa-Nairobi highway.
Her two sons Mike (9) and Venand (2) survived the accident and are currently recovering at Coast General Teaching and Referral Hospital.
A family member, who spoke to The standard, said Bundi originally planned to leave his children with their cousin, but decided to travel after securing private means.
Bundi and her two daughters died instantly while the eldest daughter, Marion, died a week later while being treated in hospital.