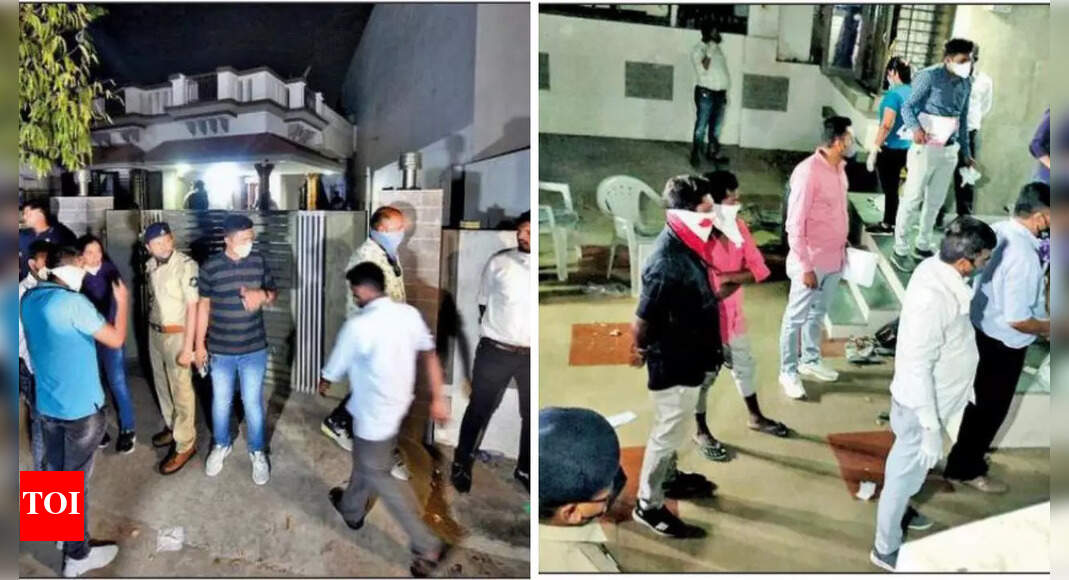 Ahmedabad man detained for killing four family members | Ahmedabad News
AHMEDABAD: The city's criminal branch on Thursday arrested a 40-year-old man, accused of murdering his wife, grandmother and their two children, from Jhabua in Madhya Pradesh.
According to police, the accused, identified as Vinod Marathi, first blindfolded his wife as a surprise and then stabbed her to death for her alleged affair with her boss. He then killed their son Ganesh (17) and daughter Pragati (15) before murdering his wife's grandmother, Subhadra (75), on Saturday night.
Vinod, an auto rickshaw driver from Viratnagar in Ahmedabad, confessed to the crime in front of the cops.
During the investigation, he told police he learned about his wife's affair about a year and a half ago from his son.
"Ganesh had seen his mother, who worked in a sewing unit in Nikol, with his boss at their home in Divyaprabha company and he told his father about their affair," a policeman said.
Ever since then, Vinod had been planning to kill her and finally carried out the plan on Saturday night, he said.
"On Saturday night, he sent his son to bring shrikhand and his daughter to buy pan masala for him. Meanwhile, he tells his wife that he has a surprise for her. He convinced her to be blindfolded and when her eyes were covered with a dupatta, he held her from behind, squeezed her mouth and stabbed her repeatedly," the officer said. .
As he stabbed her, her son returned to see his mother lying in a pool of blood.
"After a few minutes of stabbing Ganesh to death, his daughter came back and he killed her too. After killing the trio, he took Subhadra to the bathroom behind his house where he stabbed her to death" , added the police.
Later, her mother-in-law Ambu Marathi came there as neither her daughter nor her grandchildren answered her phone calls.
"She thought Vinod might have done something wrong with them. When she got to his house, he wouldn't let her in and slit her throat. He kept her confined until Sunday morning, then dropped her off at her house. Before that, he had threatened to kill her if she told anyone about him," police said.
After receiving primary treatment at Shardaben Hospital, Saraspur, Ambu surrendered to Odhav Police and filed a missing complaint.
Two days later, a team from Odhav Police reached Vinod's house in Divyaprabha society and found four decomposed bodies on Tuesday evening.
Odhav police filed a murder complaint and various police teams began searching for Vinod and nabbed him in the early hours of Thursday.