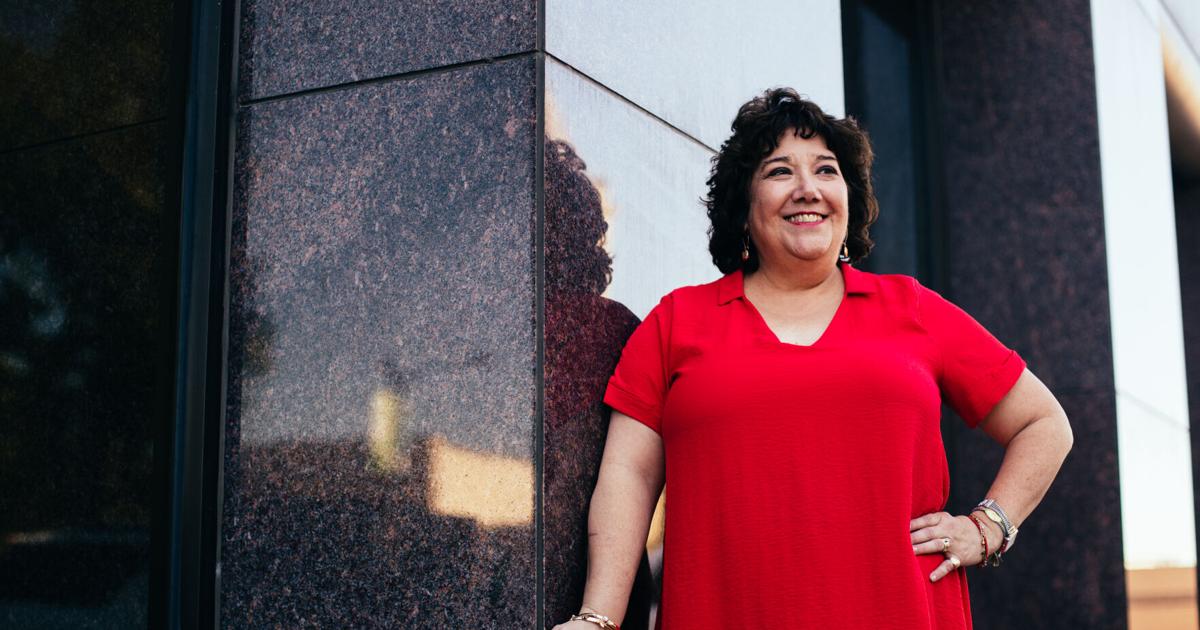 A longtime resident of Victoria, this banker shares an infectious enthusiasm for God, family and service | Premium
SSitting at her desk behind a window that overlooks the lobby of Prosperity Bank in downtown Victoria, Debbie Escalante laughed with a broad smile as she waved to passing customers. On a recent Friday afternoon, a "Happy Boss's Day" banner stretched across his office window and colorful balloons dotted his floor.
"She is very professional and provides exceptional customer service," said James Wearden of Victoria, who has been doing business with Escalante for about a decade. "She brings excitement to the entire downtown bank lobby. She is very friendly, inviting and welcoming.
Escalante, 61, a vice president and banking center director at Prosperity Bank, spent 39 years — her entire career — working for banks in her hometown of Victoria. She attended Nazareth Academy and graduated from St. Joseph's High School in 1978. Her idyllic childhood was spent in the company of her large immediate and extended family and many friends.
A baby of six, Escalante lived in a modest home with her parents John Manuel and Lorence Villafranca. Her father worked at the post office while her mother stayed home with the children. In 1956 his father started running the Club Westerner and in 1965 he bought the historic ballroom.
Escalante worked with her siblings at Pleasure Island, the ever-popular swimming destination next to the dance hall. She has fond memories of swimming with kids from different parts of town, and some of them remain her friends today. To help out, she and the other Villafranca kids also cleaned up the dance hall. Because they were having so much fun, the kids didn't see their chores as work, with one exception.
"Cleaning the pool wasn't much fun, so we had a group of friends across the river. The Vasquez brothers would help us clean the pool and we would let them in for free," she said. laughed.
The Villafrancas also always had their fair share of animals – cattle, sheep and chickens – which meant more good times to grow up.
"I had a wonderful childhood. We weren't a wealthy family, but we were wealthy because we had so much family support and friends," Escalante said. "It was safe then. Back then, we grew up in a very sheltered time.
Escalante earned a scholarship to Victoria College, which she attended for two years before transferring to Texas A&M University, where she earned a degree in business administration.
"It was tough when I left for Texas A&M. I went from a class of 24 to a business law class with 300 students," she said. "At St. Joseph's Academy and Nazareth, there was so much attention. They let you succeed. They pushed you a lot, but it was small and contained and protected. Even Victoria College was like that.
After graduating from college, Escalante returned to Victoria, which she described as a good family town, where her fiancé worked. She married Ernie Escalante in 1985 and they have one child, Patrick Michael, who is 29. Escalante attended Our Lady of Sorrows Catholic Church her entire life and developed a love for the community.
"I wanted to get married and be with my family and our church," she said of her return to Victoria. "I also had a lot of close friends here."
Escalante's mother urged her to go into banking, and she got her first job at Victoria Bank and Trust, which eventually became Norwest Bank and then Wells Fargo. She held various positions there until moving to First Victoria National Bank, now Prosperity Bank. It currently manages about ten bank employees.
Buddy Billups, who recently retired from a 49-year career in banking in Victoria, worked with Escalante first at Victoria Bank and Trust and later at First Victoria National Bank.
In his extensive experience as a bank executive, Billups said he considers Escalante's role as a retail bank manager to be one of the most challenging, and his branch on Main Street is one of the largest, if not the largest, of Prosperity Bank's more than 270 retail offices.
The lobby of the downtown branch of Escalante-run Prosperity Bank is "as good as it gets", he added.
"About four cashiers talk to you, thank you and tell you have a great day. All of her staff do that," Billups said. "She trains her people well and sets an example."
Billups said Escalante is ethical, professional and genuinely interested in helping people, which carries over to her staff.
"She knows the market and her customers so well. She's been here her whole life," Billups said. "Early on she learned that without customers, the rest doesn't matter – that customer service is number 1. I'm glad she's getting some recognition because she really stands out."
Susana Pina, 78, of Victoria, used to frequent Club Westerner where she first met Escalante in her youth. These days, as a longtime bank client of Escalante, she praised the bank executive for his ability to listen and offer advice.
"She helped me get my account in order so I didn't have to struggle," Pina said. "Every time I call or pass by, she's there. She comes to take me in her arms, greets me and asks me if she can help me. She always laughs and smiles. Her personality is beautiful.
Escalante enjoys working with colleagues and clients, and her upbringing has a lot to do with her affinity for people.
"I learned early on how to deal with people, make them happy and do them a great service," she said. "It's how I was raised and I really believe in it."
To satisfy its customers, Escalante strives to provide service beyond what they expect.
"If they feel like they're at home and everyone knows them, they'll keep coming back, even if it's all the way downtown. They become your friends in many ways," she said. "Money is important to everyone at any level – whether it's $10 million or $10 million – and they want to know their money is taken care of and they're safe."
Outside of banking, Escalante owns and operates Club Westerner with her "wonderful" husband and two of his siblings, Tali and James Villafranca. She enjoys reading motivational and spiritual books, listening to all types of music, baking cakes, drinking margaritas and visiting her second home in Port O'Connor with her family.
"You can see the beauty of God in Port O'Connor. It's a little piece of paradise for my family. Life is so fast paced and as you get older you realize family is the one thing that never changes and you have to make time for family," she said. "My family will always be there for me and God will always love me."
Escalante said the bank has done her good by allowing her to stay in the department she loves.
"Since 2010 I've been the manager of this place, which is great because they know me now," she said. "If I don't know a client, I find out who they are. I like to know our customers.